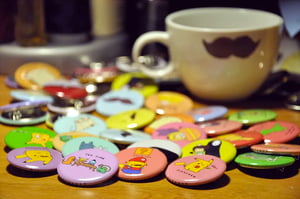 $

5.00
Please read before purchasing.
-Pick four pins of your choice!
(One set = 4 pins)
-One and a half inches in size.
-Illustrations and pins made by pikarar.
-"Out of stock" pins may or may not be available afterwards.
-The purchaser is responsible for checking whether their shipping address is correct or not. Please confirm your shipping address.
-At your checkout, look for "Add instruction to merchant" and enter your selections (pin numbers) in numerical order inside the provided box.
Example: #2, 22, 30, 40.
-Or email me at pikararme@gmail(.)com with your selections! Please include the name and Paypal email the package is purchased under.
-Confirmation emails are sent out on shipping days.
-I may email you so please check your inbox.
-Emails might get sent to spam
-Special offer;
-Buy two or three sets - one free pin!
-Buy four sets - one free pin + small stickers!
-Buy five sets - two free pins + small stickers!
-You pick the free pins! Any "free" pin that is not listed, will NOT be included in your package.
-Any extra pins that are listed, that have not been purchased for, will not be delivered. Extra pins are considered the additional pins at the end of your list.
-Any missing/unlisted pins will be chosen at random.